Video side window Video front window Morelo Winterdecke mit 3 cm Isolierung
RV Masters Comfort Sun & Winter Protection is the company that has been located on Edebäck,Zweden
RV Masters stands for high quality and a personal service with our customers.
We perform a solid craftsmanship according to customer requirements and "Custom made" is our specialty. We look forward to meeting you. Ingrid & Robert
German

Der Comfort Sonnenschutz ist ein exklusives Produkt, das speziell von RV Master für Camper und RV entwickelt wurde. Sie werden von Hand gearbeitet und alle Teile werden in Schweden hergestellt.
Die Vorteile von Comfort Sonnenschutz:
Der spezielle Comfort Sonnenschutz passt perfekt auf Ihr Wohnmobil.

Einfache Montage innerhalb von 25 Sekunden ohne Leiter (Sicherheit), Bänder, Schrauben (daher kein Loch im RV) und Saugnäpfe.
Sie können hinausschauen ohne gesehen zu werden. Ihre Privatsphäre wird geschützt und gleichzeitig haben Sie aus Ihrem Wohnmobil heraus eine gute Sicht nach draußen.
Sie erhalten ein schönes und natürliches Licht.

Die Vorteile von Comfort Sonnenschutz:
Der spezielle Comfort Sonnenschutz passt perfekt auf Ihr Wohnmobil.
Einfache Montage innerhalb von 25 Sekunden ohne Leiter (Sicherheit), Bänder, Schrauben (daher kein Loch im RV) und Saugnäpfe.

Sie können hinausschauen ohne gesehen zu werden. Ihre Privatsphäre wird geschützt und gleichzeitig haben Sie aus Ihrem Wohnmobil heraus eine gute Sicht nach draußen.
Sie erhalten ein schönes und natürliches Licht.
Der Comfort Sonnenschutz bietet einen bis zu 90% UV-Schutz und vermeidet ein Ansteigen der Temperatur im Wohnmobil.
Viele unserer Kunden sind Hundebesitzer und können so hohe Temperaturen im Wohnmobil verhindern (8-10 Grad weniger).
Es erfolgt keine Kondensation an der Frontscheibe. Dies schützt Ihr Armaturenbrett.
Comfort Sonnenschutz bietet Ihnen einen zusätzlichen Schutz gegen Diebe, da nicht ins Innere des Wohnmobils hineingesehen werden kann.

Comfort Sonnenschutz ist mit einem speziellen Anti-Schimmel-Schutz ausgestattet und bietet dem Wachstum von Bakterien keine Chance.
Comfort Sonnenschutz verbleicht nicht in der Sonne. Es ist einfach zu reinigen: einfach mit warmem Wasser und Seife abwaschen.
Comfort Sonnenschutz ist nicht bleihaltig.
Comfort Sonnenschutz schützt Ihre Haut und Augen vor UV-Strahlung.
Comfort Sonnenschutz spart Energie durch natürliche Regulierung der Temperaturen im Inneren des Wohnmobils.

Comfort Sonnenschutz ist einfach zu verstauen und braucht nicht viel Platz, wenn Sie es gerade nicht benötigen.
Comfort Sonnenschutz ist in vielen Farben erhältlich.

Auf Ihren Comfort Sonnenschutz erhalten Sie 10 Jahre Garantie.

Bitte kontaktieren Sie uns bei Interesse unter www.info@rvmasters.se
+46 767 884 982
English
Comfort Sun screen is an exclusive product, which is specially developed by RV Master for campers and RV
They are handmade and All blinds are manufactured in Sweden.
The benefits of Comfort sun protection:
Special custom comfort sun protection to your mobile home means perfect fit.

Simple momtering within about 25 sec without ladder (safe), elastic band, screw
( so no hole in the Rv) and without suction cup!
See without being seen. To preserve your privacy and at the same time, you have good visibility to the outside world from the RV or mobelhome.
You get a nice and natural light.
Comfort sun screen shut out up to 90% of the Sun's radiant heat (UV) and prevents tempetur rising in mobile homes.
Many of our customers are dog owners and there is a way to prevent high temperatures in the camper (drop 8 to 10 degrees)

No kondensation on the front window and protect your dashboard.
And with Comfort sun screen protection, you also have an extra protection against Thives not having the opportunity to see what is stored inside the camper.
Comfort sun screen protection is especially developed for anti mold and protected from bacterial growth.
Comfort sun screen dos not stained in the Sun.
Comfort sun screen is easy to clean, soft brush with warm water and soap.

Comfort sun screen are lead-free.
Comfort sun screen are UV protective against sun damage to your skin and eyes.
Comfort sun screen saves energy (air conditioning).

Comfort sun screen is easy to roll up, and if you are not using takes comfort sunscreen not much space.
Comfort sunscreen is in many colors.
Comfort screen have a 10 year guarantee on the fabric.

If you have any questions please contact us by mail or telephone:
info@rvmasters.se
+46 767 884 982
Price Comfort Sunscreen 90
All Alcove / half alcove and the pössel.

Windscreen: 2950,- sek ink vat.
Side windows per piece 950,- sek ink vat.
Windscreen wipers set 750,- sek ink vat.
Storage bag 475,- sek ink vat.


shipping costs are calculated extra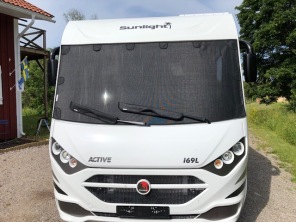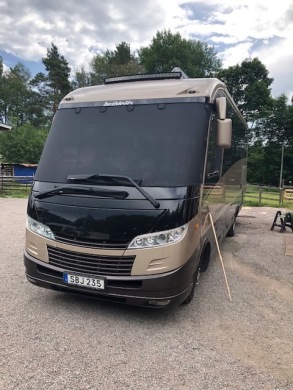 Price Comfort Sunscreen 90 Integrall
All integral model up to max 110 cm high front window !

Windscreen 3.995,- sek ink vat.
Side windows 2 st 2.750,- sek ink vat.
Wiper protector set 750,- sek ink vat.
Storage bag front window 475,- sek ink vat.
Set storage bag 675,- Sek inkl vat

Attention: driver Door is extra charge.
Large Campers: more than 110 cm high in the middel window on request.